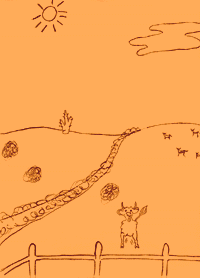 © 1997 Cathy Hardin. All Rights Reserved
"It's so hot," The Queen said as she stepped out of the coach. "Mom, take off your coats," Kimi said.
The King just smiled.
Tumble Weed was different than Kimi's home. It had no woods, fairies, or stone houses.
Tumble Weed had dusty roads, wooden fences, and lots of cows.